Helical Pile Foundation Leveling
VIP Home Remodeling specializes in all phases of home remodeling, including the placement of helical pile deep foundations for both commercial and residential construction, and structural underpinning of existing foundations that are sinking or in need of traditional foundation repair.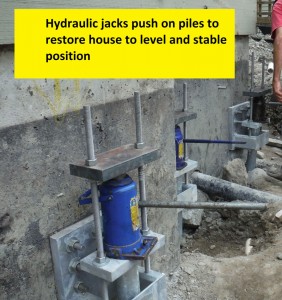 Helical Piles Foundation Systems are designed, tested, and proven for applications in areas with unstable soils which can lead to foundation settlement.
Helical piles are installed with a hydraulic drill motor attached to an excavator and are screwed into the ground to varying depths. Depths will range from ten to sixty feet, depending on the load requirements. Using precise hydraulic gauges, every Helical Pier is installed to an engineer's designated specifications for the structure.
After the pile reaches its recommended depth, a steel plate is then fastened on top of the pile and attached to the building's foundation, then encased into the new concrete foundation. The pile can be loaded immediately.
Helical Piles are used in several applications such as securing residential and commercial buildings, retaining walls, home extensions, underpinning existing foundation, concrete footings, concrete slabs, decks piers, generator pads, reinforce existing foundation for second story additions, and other deep foundation applications. It's the best in both residential and commercial foundation repair.
It's an affordable solution for foundation repair where soil conditions require deep piles to be installed. This environmentally friendly system provides a fairly quick installation process.
Check with a structural engineer and VIP Home Remodeling to provide you with the business or house leveling solution that will correct your distressed foundation. Contact us today for the best in Boston.