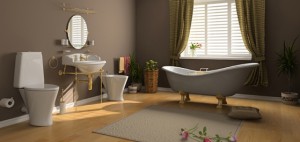 If you just can't stand the way parts of your home look anymore, you might be considering moving in order to get upgrades to your kitchen or a nicer bathroom. Before you move, maybe you should consider home improvement so that you can stay right where you are. Here are three reasons to have that kitchen remodel or bathroom remodel done instead of moving to a new house
You Love the Neighborhood
If you love the location of your house, you certainly don't want to move. But what if you don't like what's going on inside your house? That's when it's time for some home remodeling, maybe a kitchen or bathroom remodel so that you can enjoy the interior as much as possible.
You Love Its Future
You can't be blamed if one of your main interests in your home is that it could provide a solid financial gain. If you move out now you might not turn a profit, but if things are trending upward in your neighborhood it could prove to be beneficial to your sale price in a decade. Don't move out; simply invest in some home improvement that you can enjoy now and will boost its price when you do sell.
You Love the House
Maybe you've been in your house for three years, maybe you've been in it for 30 years. Either way, it's easy to get attached to a house. It might be where you lived when you met your spouse, or where you raised five kids; memories can play a big part in deciding whether to move or to invest in some home improvement.
Before you move, look around and see if some changes would be a better option for you and your family. If you want to stay where you are, contact VIP Home Remodeling and we'll get you all of your options.