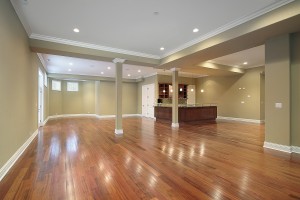 If you're moving into a new home, the basement might have been the only part that you didn't get finished. Or, if you're moving into an existing home and are remodeling, the basement might be the last part that you get around to. And both of these scenarios are sad, because basement finishing and basement remodeling can add so much to your life.
Get away – There's nothing wrong with needing a bit of alone time. So when you have your basement remodeled you have a place to go…or a place to send the kids when you need space on the main floor. It's great to spend time together as a family, but it's also great to spend some time apart so that you can enjoy the time you spend together even more.
Help the resale – After years of enjoying your basement remodel, maybe it's time to sell your house. And when others are looking to buy a house, they don't want to find an unfinished basement…they want to be able to come in and take full advantage of the finished basement, which makes your home a much more desirable piece of real estate when compared to a house without a finished basement.
Banish the TV – With all the screens that we can carry around with us, is there really any need to have the TV on the main level of the house anymore? Instead of having a bunch of smaller TVs around the house as a constant distraction, make the TV a special occasion by creating a home theater room in your basement.
When you need a basement contractor, make sure to hire one who will get you exactly what you're looking for in basement finishing. Give VIP Home Remodeling a call today!