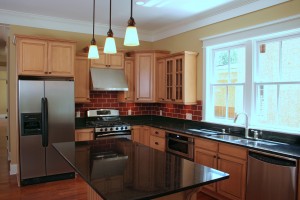 Many people get their constant moving out of the way fairly early in life. They move back and forth from their parents to college four times, move to an apartment in the college town, get their first professional job, and move a few more times trying to find the right job/right city combination. When they find the right city, the job might change but moving suddenly becomes something that younger people do!
When you've found that perfect city and settled in that perfect house, the house only remains perfect for so long. Time takes its toll, families grow, and that kitchen remodel or basement finishing becomes a necessity. That's why, when it comes to house remodeling, it's important to look to the future — because you might not want to move anytime soon. Here are some suggestions you shouldn't ignore when you're considering a home remodel.
How Often Will You Remodel?
How often you remodel will most likely depend on how well-off you are. While most people can afford to redecorate to match the decade, you might want to remodel your kitchen in a way that's more timeless than trying to chase the latest trends.
Make It Handicap Accessible
When most people think of homes that are handicap accessible, they imagine ramps up to the front door and unsightly support bars in the bathroom. If you're young or middle-aged, it's unlikely you'll want to go that far yet.
Still, why not consider a few less obvious handicap accessible options? After all, your parents aren't getting any younger; wouldn't it be nice to make it easier on them when they come to visit? During the remodel we can make doors larger to accommodate wheelchairs, level areas that have a step down, and put in door handles that are more appropriate for weaker hands. And speaking of family…
Make The Most Of Your Basement
Sure, you want a home theater or game room put in during your basement remodel. But don't forget to put a bedroom down there too. While you might not want to give up that amount of space at first, it will increase the value of your home considerably while giving your guests (or surprise kid!) a comfortable place to sleep.
Think Of The Next Owners
Okay, we'll admit we're going to give you some conflicting advice here. Sometimes in this blog series, we tell you "it's your home, get exactly what you want and forget about what anyone else thinks. After all, you have to live with it!" Very true, and we certainly wouldn't try to dissuade anyone who had their heart set on a pink toilet during their bathroom remodel.

On the other hand, no matter how rooted you are now, things can change quickly. You could lose your job and have to leave Boston. Your home could double in value, and selling it could make you flush with cash for years to come. What we're saying is, thinking about how your home design and layout looks to a potential buyer is never a bad idea. (Still, if you can afford to remodel often, head back to our first point up above and know that you can put in as many pink toilets as you want.)
When it comes to home remodeling, it's always a good idea to think ahead. Here at VIP Home Remodeling, we can help you decide what would be the best plan of action. Contact us today!