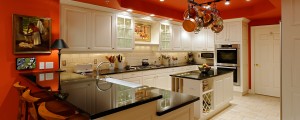 Why does someone decide to invest in a kitchen remodel, and why is it so often the first room that people change when they move in?
An investment in your home – When it comes to home improvements, kitchen remodeling often ranks near the top. You might not be thinking of selling now, but some day you might have a potential buyer who can imagine themselves in the kitchen and all the parties they'll have. The kitchen is also home to the most fixtures…the stainless steel sinks and range hoods, the fancy dishwasher. Potential buyers can think to themselves "look at the beautiful things they're not going to take with them…this is fancy stuff!"
An investment in yourself – When you get a new camera, you take more pictures. When you get a new car, you can't wait to drive it. And when you get a kitchen remodel you're more likely to learn new forms of cooking, to invest in yourself. Never wanted to cook that certain meal because it got too smokey? Your new range hood will fix that. Were you avoiding having people over because your kitchen was an antique from the 1980? You'll be proud to have them over.
An investment in your family – Two points to this: First, having a kitchen remodel will be an exciting step for your family, making people want to spend more time there. People like to talk while they're in the kitchen whether they're cooking or not (and with a new kitchen remodel they'll be more likely to want to cook). Second, a kitchen remodel can be a great way to get traffic to flow through your kitchen the way you want. If people are tripping over each other as one gets a drink while the other washes her hands, we can help you design a new kitchen that helps people move without getting in each other's way.
A kitchen remodel is a great way to improve not only the look but also the feel of your home. Call VIP Home Remodeling to talk about getting the kitchen you want.