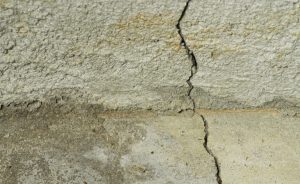 A few months ago we wrote a blog telling you about five reasons that your foundation might not be as strong as it should be. These included improper compacting of your the ground underneath the foundation, impossible-to-prevent sinkholes, bad guttering that causes dirt to be washed away from your foundation, and the many earthquakes that happen in Boston that you can't even feel. We also mentioned how the wind can alter how well your foundation cures; counterintuitively, the windier it is and the faster the water evaporates, and the worse a foundation will age. All of these can lead to the need for foundation repair and house leveling.
There are a couple of other factors that can determine how long your foundation will last. Unfortunately, these were factors that occurred at the time of the original pour, so there's not much you can do but call a contractor for foundation repair.
It Might Always Have Been Subpar Concrete
If you live in a planned urban development (PUD) and all of the houses in your neighborhood were built at the same time, they were most likely supervised by a single contractor. The house contractor was interested in shaving costs wherever possible, and that probably included pouring just-up-to-code-and-no-better concrete, or hiring the concrete company that submitted the lowest bid. Unfortunately, they will get away with it because the problem might not show up for a decade or more.
Time of Year

Temperature has a huge effect on how long it takes for concrete to cure. At a pleasant 70 degrees it only takes about five hours for concrete to cure. Drop that to 50 and it's 10 hours, and at 30 degrees it doubles again to 20 hours. If the contractor who built your home rushed the curing time, the foundation might have been compromised long before you moved in.
In this blog we just listed seven problems that can occur over the life of your foundation. It's no wonder so many people call us for foundation repair in Boston!