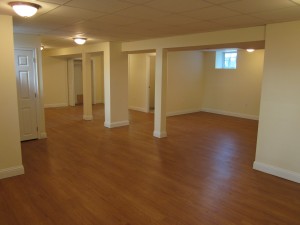 Ah, the basement. Once the forgotten room of the house that might not even be mentioned on a Realtor's brochure, it has now become of the big selling points of a home. So where did it come from, and why has it become such an important part of your home once you hire a basement contractor?
The History: Basements didn't used to exist. After all, dig down more than six feet and you're likely to hit the water table. If you wanted a cool place to store your jar goods and apples to get you through the winter, you'd have a root cellar that was separate from your house. Basements didn't really exist until concrete became the staple of foundations, which allowed the water table to be defeated (until cracks appeared, of course, letting the water dribble in)
The Transition: Because the earliest basements had stone or concrete walls, the spaces couldn't really be made liveable. So there was a transition from external root cellar to internal cellar. But because of the musty nature of most cellars, they were reserved mostly for dry goods and Christmas decorations.
The Living Space – Once technology got good enough to properly ventilate a basement, people started realizing that "wasted space" could be turned into livable space. Kids started moving into the basement to find their own space. People started putting playrooms down there, either to prevent children from destroying the main floor living room or to give teens a place to play ping pong. Eventually, the basement got so good that people started putting guest rooms down there as well as some of the most expensive stuff in the house…tens of thousands of dollars in home theater equipment.
Got a basement that needs help? Call the basement remodelers in Boston who can get you the room you want. Call VIP Home Remodeling today!