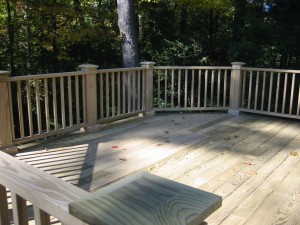 The internet is full of advice for making you happier…"buy more stuff, buy less stuff, eat yogurt, exercise, take a trip." So how can hiring a deck builder in Boston make you happier?
Fewer splinters – If you're considering deck contractors because you're replacing a deck, that means you're getting rid of something that's started to deteriorate, whether the wood is getting so old that it's splintering or it's rotting on either the planks or supports. Having fewer splinters in your hands, or not rocking back on forth on rotting wood, is probably something that would make you happier.
You get to enjoy your backyard even more – Chances are you've spent quite a bit of effort getting your backyard to be just the way you like it. And while it can be nice to sit out in your yard in a lawn chair, it's generally not as easy to do after a rain or when the yard is uneven. You can sit on your deck as the sprinklers are going off and enjoy your lemonade from your perfectly level side table.
You don't have to do it yourself!: Let's admit it…hiring a deck builder is a lot easier than doing it yourself! Even if you can build a deck yourself, maybe you don't want to deal with the time and effort. Or maybe you want a more advanced deck than you're comfortable building…something that moves from the upstairs bedroom down to the backyard, perhaps. We can help you with both the design and the deck building.
When you're looking for a deck builder to help with your home improvement, you've found the affordable and professional option with VIP Home Remodeling. Give us a call today!