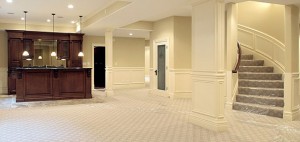 Nearly every room in the house has a very specific purpose: kitchen for cooking, bedrooms for sleeping, bathrooms to get away from everyone else!
Basements used to have a specific purpose…storing food for the winter and storing stuff that you didn't mind getting wet if it ever flooded. The washer and dryer might have been down there too. But it wasn't a place you wanted to spend a lot of time.
Today it's completely different. The basement has become the extra space you can turn into anything you want. VIP Home Remodeling will work with you to create the basement you deserve. Here are many of the ways that we can make your dream basement a reality.
Home Theater – One of the most common ways people use their basements is for a home theater. Sure, they've got TVs throughout the house, but this is the place you go when you really want to enjoy a movie. We can create a room in your basement that is custom built for your screen size, speakers, seats, and risers. We can even discuss an infinite baffle subwoofer with you if you want to shake the whole house.
Spare bedrooms – When you buy your home, you probably have more than enough bedrooms so that you can host overnight visitors. But then kids come along, filling the rooms on the upper floors and eliminating your guest room. If it's time to find your guest a new room, consider putting a bedroom in during your basement renovations. It will certainly help the value of your home to add a bedroom.
Wine Cellar – In the past, wine cellars worked because they were cool and dark, keeping the wine from going bad. But as basements became finished (and therefore heated), the "cellar" no longer worked the way it was supposed to.
As more people discover their interest in wine, we're building more wine cellars during basement renovations. These rooms can be temperature and lighting controlled so that the wine ages properly, and they can truly be beautiful. You can even have a tasting table in the middle, if you want, surrounded by racks filled with hundreds of bottles.
Game Room – Most guys (and some women) have always dreamed of a game room. It's a place where you can have, at your disposal, all of the fun of your youth right in your own home! Just imagine it…foosball tables, air hockey, pool, pinball, stand-up arcade games, dart boards, shuffleboards. Many of these are going to need extra power, so we'll make sure that you have the outlets you need to keep these up and running, and help you design your basement renovations to accommodate everything.
Bar – Why not put a full bar down there? Bars are especially nice if you'll be hosting your friends for football parties or having them over for movie nights. It's also a great way to get a sink in the basement and a fridge for non-alcoholic drinks.
Whether you're interested in basement finishing or basement remodeling, we can get you the fun-space you want. Give VIP Home Remodeling a call…we're your basement contractors!