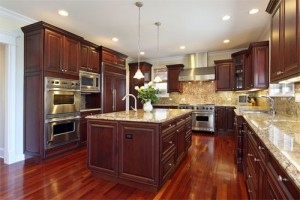 When you hire someone to renovate your dining room or take care of your kitchen remodel, you might think that because each room has a different feel and purpose the same contractor can't possibly be able to handle both jobs. After all, VIP Home Remodeling is a general contractor who can handle both of those rooms plus deck building, basement finishing, and bathroom remodeling. Can we possible be experts at it all?
Well…yes, we can! We've handled hundreds of these projects and have always finished with happy customers who call us up again next time they're considering a home improvement project. Here are three reasons why you should consider a general contractor to take care of as many home renovations as possible at the same time.
Consistency: While each room might have its own feel and purpose, you still want your home to flow as much as possible. Let's take the example we mentioned above with the kitchen and the dining room. If you have each of these remodeled separately, you might never think about how these spaces should be separated, whether it's with a partial wall, an island, or a flooring change delineating each room. But when you're taking care of both of them you can make sure everything works together.
Time: A good part of our time is spent respecting your home and making sure that we don't damage the spaces that aren't being worked on. This can difficult when two spaces are right next to each other, and having more than one room renovated at the same time allows us to work faster.
One mess: While we do everything we can to keep the dust down, it's still going to get a bit messy when you hire us as your general contractor. Would you rather deal with that mess once or multiple times? When you take care of as many home improvement projects as you can in a short amount of time, it's going to save you a lot of time and mess.
What can VIP Home Remodeling do for you? Anything you need! Give us a call and we'll get all your home improvement projects taken care of.