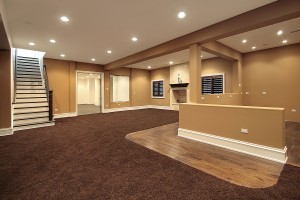 We've written a few blogs about what many people do when they invest in basement finishing. Once-opulent additions such as home theaters are becoming more common, while other people are devoting the space to collections, hobbies, and other interests. Here are a few ideas that can really help you make the most of your basement remodel.
Go Easy On The Carpet
When basements started to become a more liveable space, the way to express "this isn't the wet, dingy area of years past" was to have it carpeted. Today, carpeting is a standard of finished basements, but you can also move beyond that and get even more fancy options. Hardwood floors, acid stained concrete, and other non-carpet options can make it look even better.
Wet bars
Why not have a place where you can entertain friends and show off your mixing skills at the same time? If you put in a wet bar, you'll be able to mix, shake, and have the ice at the ready. You can also have a kegerator put in! And since you'll have a sink down there…
Put in a Second Kitchen
None of us likes to think about relatives or in-laws coming to

live with us for an extended period of time, but it does happen. If you do have long-term visitors, why not make their space as self-sufficient as possible to match the bed and bathroom you have down there? A kitchen in your remodeled basement can make it a space so that they — and you — can have the privacy you'd all like.
When it comes time for basement finishing, go all out and make it awesome! Contact VIP Home Remodeling and we'll help you take care of everything you've ever wanted in a basement remodel.