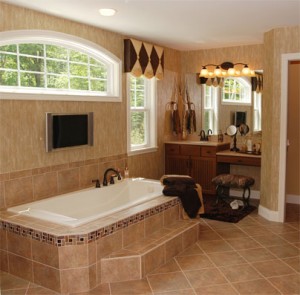 We've all seen the master baths of a fancy home, or stayed in a swanky hotel and thought "now that's something I'd like to have in my bathroom."
But we can't remember everything we've seen, and that's why there are bathroom designers to give you all of the wonderful options. Whether you are in the market for a large or small bathroom remodel, VIP Home Remodeling can help you get it. Maybe you'd like:
A Shower Panel: Shower panels look futuristic, but they've been around for quite a while. The futuristic part of them is the control you can get over each and every aspect of the water flow. Get the feeling of rain from overhead, while the side panel can hit you with your desired water pressure vertically. Every shower is a customizable shower!
Heated Floors: There's the option to have heated floors in just about every room of your house, so if you want a kitchen remodel we can get you heated floors there too. But it seems to make the most sense in the bathroom, for when you step out of the shower and want your feet to be warm while you dry off and get ready for the day.
Tile: Tile might not sound all that exciting. After all, it's replaced the linoleum in many a bathroom over the years. And it's because of that tile has had to get more exciting. Custom tile comes in all types of interlocking shapes and colors, with a variety of beautiful stone patterns. When you get a custom bathroom remodel, get the tile you want!
When you're ready to discuss bathroom remodeling, we'd love to talk with you and get you the most beautiful and useful options available. Give us a call!