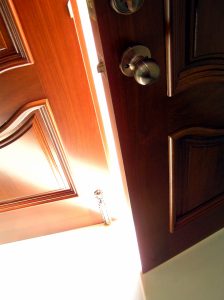 It starts out simply enough. You go to close the pantry door and it won't latch. That's odd, you think, and might just slam it to get it to shut properly. But then even slamming it doesn't work, which causes you to look for a misalignment. Yep, there it is; your door is crooked. Of course, it's not the door's fault. More than likely you're in need of house leveling. It's incredibly important to make sure you get house leveling and foundation repair done as quickly as possible. Why?
The Simple Stuff

At its simplest, a house that is starting to lean causes small issues like a door that won't latch. Floors might creak a little bit more than usual, and there might be hairline cracks in some of your plaster or brickwork.
These simple problems are things you can live with, and you might even start to tell yourself that those are little wabi-sabi quirks of the house. But the problem is that problems get bigger…
The Complex Stuff
Little problems with tilting house almost always become large problems. Small cracks in the corners of drywall might become large gaps that stray into the heart of each panel. That pantry door won't close anymore, let alone latch. The problem is even more worrisome with brick homes, where cracks can get so large as to threaten the structural integrity of the entire home.
It doesn't matter if you home is a years old or 100. Either way, the best course of action is to give VIP Home Remodeling a call so that we can take care of your house leveling.