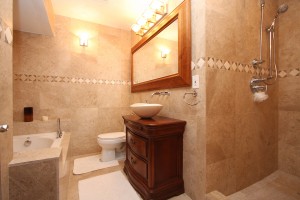 When most people think about bathroom remodeling, they start to imagine the wonders of remodeling their master bath. They start thinking about a freestanding bathtub, or a shower panel, or double sink with the perfect vanity.
But let's think about something a little less glamorous. Think about your smaller bathrooms for a second. Maybe it's the kids bathroom, maybe it's the guest bathroom, maybe it's the one that's also the laundry room. When you're considering home improvement in Boston, don't forget about the small bathroom remodels as well. Why?
You Use it: Someone in your home is always using one of the bathrooms. If it's a bathroom on the main floor and your bedroom is on the top floor, you don't always head to the master bathroom when you need to use it. There's even the chance that you use it more than your master bath, so make sure that you've got something nice surrounding you when you're there.
Your Guests: Most of the time your home is about how comfortable you feel in it. But when you're having guests over, you start thinking about how other people view your home. Chances are slim that a guest is going to be using your master bathroom, so make sure that the one they do use looks nice.
The Cost: A small bathroom remodel is going to cost less than a large one, obviously. You don't have the space for a tub, and there might not even be a shower. So if you're considering bathroom remodeling maybe it's best to spend a little now and take care of both you and your guests.
Potential Buyers: You might not sell your house for years, but when you do you want to present your whole home in as good a light as possible. If a potential buyer needs to use the bathroom while they're touring your house, you want the guest bathroom to impress.
Small bathroom remodels might not be as exciting as getting a kitchen remodel or basement renovations, but there's a lot of value in it. Interested? Give VIP Home Remodeling a call today!