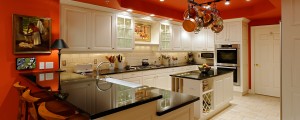 We talked in this blog about three trends to watch for in modern kitchen remodels. Most of those were color related, so this time we'll talk about some design choices to make when you start thinking about kitchen remodeling.
Integrated Kitchen Spaces
Some cultures have understood the importance of the kitchen as a meeting place for centuries. In the American home the kitchen has often been the place to be avoided by non-cooks during meal preparation, but as get-togethers have gotten less formal it's perfectly acceptable to have your guest in the kitchen while you cook, or actively be at the counter as you serve them. Dining rooms will always have their place, but keeping the conversation going while you cook is always a great option. This is especially true in condo renovations when looking for a small kitchen remodel.
Mid-Century Modern
Nods to mid-century modern designs have been creeping up in tabletop appliances for years now, but those designs are making their way into kitchen remodeling designs. Called "Nordic design," it focuses on simplicity in both the colors and the woods used. It also requires a lot of storage space so that the appliances and countertop clutter can be well-hidden.
Lights, Lights, Lights!
Many kitchens are properly lit during the day, as natural light and cooking just go well together. But when it gets dark, an overhead fluorescent light just isn't going to cut it. LED lights under the cabinets are becoming more and more common, illuminating not only the workspace but also giving more options when it comes to lighting for mood. Consider more lighting when we help you design your new kitchen remodel.
Design is always changing, which is why you're probably considering kitchen remodeling in the first place. Contact VIP Home Remodeling and we can make sure that your kitchen looks modern for many years to come.