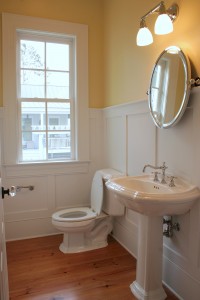 Your guest bathroom is important, not only because you use it but also because you want it to look as nice as possible for anyone who stops by. You also want it to look nice so that you don't have to say "oh, you can't use that one, please use our master bathroom." Here are three good reasons people need us for their bathroom remodeling.
The Laundry Room: Some houses built in the last 20 years had an unfortunate design where the guest bathroom doubled as the laundry room. While there were some practical aspects for this, it came with one very big downside: it's simply unattractive, and having the laundry running when you had guests over just wasn't an option.
If you have a house like this, we have many options available. We can retrofit another room to be your laundry room, we can build something that would make the laundry machines less obvious. We'd also be happy to build you a room addition that can house your washer and dryer.
It Was Forgotten: When people move into an older house, they have dreams of what they'll do with it. First they'll invest in a complete kitchen remodel, and then remodel the bedroom, then get to that basement finishing. So where does that small bathroom remodel fit in? It's often one of the last things that homeowners get to, since it doesn't fit in directly with most other remodels.
We Can Keep the Mess Down: Too often homeowners are reluctant to do it since it's just one more time that the house will be in a mess. Don't worry, we can come in and take care of your bathroom remodeling with the least possible amount of disruption to your life, and we'll keep the mess down.
Don't put off your small bathroom remodel any longer…get the best designs and styles from VIP Home Remodeling!