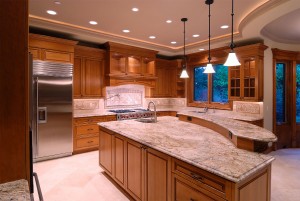 When it comes time for kitchen remodeling, far too many people limit themselves to what they had before. They simply replace the existing cupboards with new ones, and think that the sink has the stay in the same place it's always been.
When it comes time for a full kitchen remodel, dream big! Let our experts suggest some modern updates that you won't regret.
Island
Islands are "in" for a reason. That's because they increase your prep space so much and allow you to talk to others without having your back to them. Islands can also allow you to have an extra sink for when you're chopping your food. Add some bar stools and they also provide an additional place for people to sit.
Gas
Ever since the Food Network came around there's been a huge increase of the number of people wanting gas stovetops in their homes. Professional chefs swear by them, so why not be able to cook like the pros by installing a gas stove? You can do so much with gas, and a kitchen remodel makes it a good time to switch.
Sink
There's a good chance that you've been living with the same sink that was originally installed when the house was built. If that's the case, then you probably have the a pretty cheap sink, as that's what homebuilders tend to install! Now is the time to get that beautiful sink like the ones you've seen in home improvement magazines!
Planning for kitchen remodeling can be a fun experience, so make sure to get everything that you want. Ready to talk with us about it? Contact VIP Home Remodeling today!